Innovation and quality
are the pillars of our expertise
Innovation is in our DNA
Guard Industrie holds more than a dozen patents, manufactures about a hundred products, and launches many innovations every year.
We use technologically advanced chemicals: fluorine, siloxane, silane, acrylic, elastomer or titanium dioxide. These chemicals are the best water and oil repellent protection, and high wear resistance on the market.
Our latest prodiuct is  imperGuard Ultra, a 4-in-1 protector that is waterproof, antifouling, algicide, mineralising and even virucidal. It is also a 2-in-1 moss remover that has a very intense and long-lasting colour-enhancing waterproofing agent, giving a high-quality finish.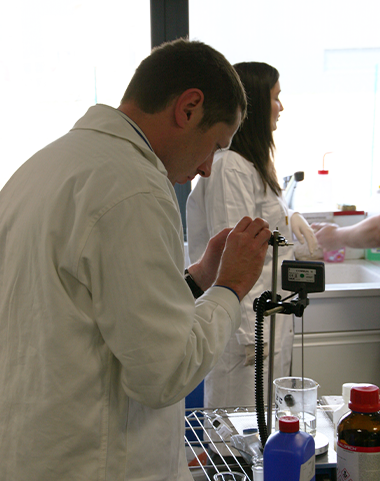 Our products are tested and approved
Our products show performance on a daily basis, its effectiveness has been proven by a number of studies.  Our waterproofing, anti-stain, anti-graffiti and stain removers are tested by the most reputable external testing institutes such as CEBTP, CSTB, SIMCO, Lucideon, Quebec Transport Authorities, RATP, KIWA, Laboratoire des Matériaux De Construction (LMDC), CREPIM, Stone Initiatives and Materials Testing Group Pty Ltd and many more… Our moss removers are tested by the BioPreserv laboratory.
Our factory in Toulouse is ISO 9001 certified, ensuring excellent quality control. Our laboratory is also fully equipped with the most efficient measurement and control tools. The studies carried out by external laboratories complement all the internal tests carried out for each of our products.